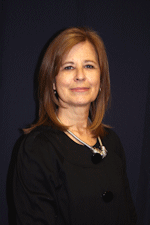 Sharon P. Clark, a veteran of Kentucky state government, was appointed Commissioner of the Department of Insurance (DOI) on January 6th, 2020. She had previously served as Commissioner of the DOI from July 2008 to January 2016 and has the longest tenure as Kentucky's Commissioner since the Department was established in May of 1870.
Commissioner Clark was the first director of the DOI's Consumer Protection and Education Division, a position she held for five years. Under her leadership, the Department hired its first ombudsman, added consumer education and outreach functions, as well as strengthened enforcement efforts by expanding the number of consumer complaint investigators. 
Commissioner Clark served as the chair of the Kentucky Health Benefit Exchange Advisory Board during its inaugural year and continues as a board member. She is a member of the Kentucky Group Health Insurance Board and during her first tenure as Commissioner served as an officer of the National Association of Insurance Commissioners (NAIC) and chair of the NAIC's Market Regulation and Consumer Affairs.  Clark was also an officer for the NAIC's Southeastern Zone and a past secretary-treasurer for the National Insurance Produce Registry board.
Currently, Commissioner Clark  serves as Vice-Chair of the NAIC  Financial Standards & Examinations Committee, Vice-Chair of the Producer Licensing Task Force, Vice-Chair of the Regulatory Framework Task and serves on various other committees.   She is also   member of the of the National Insurance Producer Registry Board of Directors.
Prior to being appointed Insurance Commissioner, Clark worked at the Finance and Administration Cabinet. She also held positions for the Kentucky House of Representatives, the Public Service Commission, and the former Workforce Development Cabinet.
She earned bachelor's and master's degrees from the University of Kentucky.
Clark and her husband have two daughters and four grandchildren
Read Less